Much to the disappointment of many, Microsoft decided not to include Windows Movie Maker in Windows 10. Furthermore, they completely stopped supporting the once-popular app for Windows 7.1 and Windows 8.

However, all hope is not lost. Windows released a video editing tool in the Photos app that can do pretty much everything that Windows Movie Maker could do. This includes creating and editing movies, adding music, text, filters, and 3D effects to bring your movie to life.
How to Open Video Editor (Windows Movie Maker's Replacement)
Since the Video Editor is built-in to your Windows PC, there is nothing to download.
To open the program do a search for "Video Editor" in the Windows search bar, then click on the icon to open the app.

This will open the Video Editor section of the Photos app. Get started on your project by clicking the NEW VIDEO PROJECT button.

Now you can add your images to the Project Library and drag and drop them in whatever order you want on the storyboard. Once an image is on the storyboard, you can change the duration for each image will display in the video, add movement to the images, text overlay, filters, and more.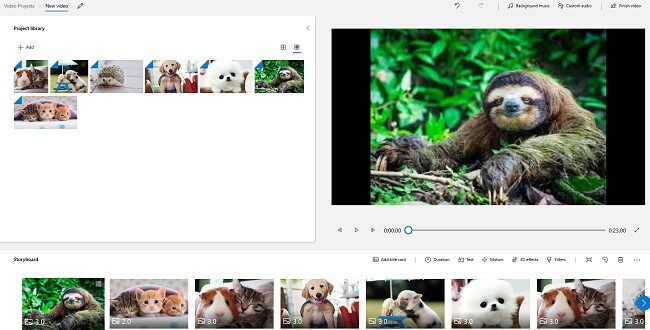 Free Alternatives to Windows Movie Maker
Openshot: This free open-source program was designed in a style similar to iMovie. It has a drag-and-drop functionality that makes creating your video simple. You can set up images, animations, music, effects, and text on separate tracks.
Shotcut: While Shotcut has the same features as Windows Movie Maker, the layout is completely different. This is because the program was originally developed exclusively for Linux before a Windows version was developed.
FAQ
Where can I download Windows Movie Maker?
The only place to download the old Windows Movie Maker app is from third party websites. These are not coming from an official source and may have malware, spyware, or viruses added in. Therefore, it isn't recommended to try and download the program. Just leave it in the past and use a program that is still being supported by its developer.
Why Can't I find Windows Movie Maker?
If you're using Windows 7.1, 8, or 10, Windows Movie Maker won't be on your computer. Instead, there is a new Microsoft program called Video Editor that is located in the Photos app.
What image formats work with Video Editor?
Any image that can be uploaded to the Photos application can be used in the Video Editor. This includes BMP, JPEG, JPEG XR, HD Photo, PNG, ICO, GIF, RAW, PANO, and TIFF extensions.
What formats can I export my completed videos?
All videos are created as an mp4 file. There are three video quality options to choose from; Low (540p), Medium (720p), or High (1080).
Visit Windows Movie Maker Website